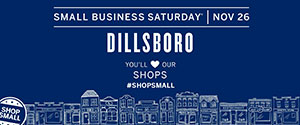 SMALL BUSINESS SATURDAY
Thanksgiving Saturday
November 27, 2021
Show your love for small businesses. Dillsboro is celebrating with sales and demonstrations with great restaurants, plenty of shops, and a brewery.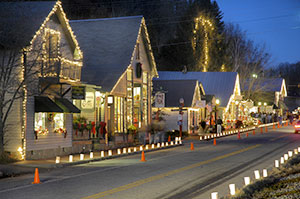 DILLSBORO LUMINARIES
Fridays & Saturdays
December 3, 4, 10, 11, 2021
5 - 9 pm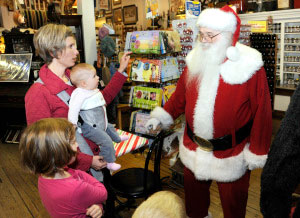 Adapted from an old Scandinavian custom of lighting the way for the Christ child, more than 2,500 candles in small white bags line the streets and every storefront is aglow with Christmas lights and decorations. Take a buggy ride, go caroling, visit with Santa, visit the shops, enjoy refreshments. Special entertainment on some nights.
Dogwood Crafters opens its doors and shares homemade cookies from our cookbooks and hot, spiced apple cider. Stop by for some treats and to see all of our one-of-a-kind holiday gift ideas.
DILLSBORO'S ANNUAL EASTER HAT PARADE
Saturday, April 16, 2022

View Our State Magazine's video of a recent Easter Hat Parade here. Video by Jerry Wolford. (Some of his photos are also in the slide-show to the right.) Check us out on UNC TV, NC Weekend Show.
Bring your Easter Bonnet to wear in the Parade! Meet the Easter Bunny and helpers who will be handing out Easter candies. Egg hut begins at noon on Webster Street. Registration for the Parade begins at 12 noon then join us at Town Hall on Front Street at 2:00 pm on Front Street for the Parade of people and pets wearing uni.que hats
Awards are announced after the Parade. Ribbons are given for the Prettiest, Funniest, Largest, Smallest, Most Unusual, Most Easter-like, Best Smelling, Cutest, Most Outrageous, Best In Show and "Poofiest" hats among other unusual categories. There is even a ribbon awarded to the Best Animal in Show!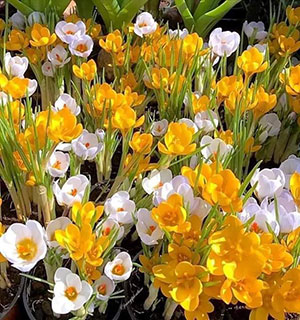 SPRING FLING ART AND CRAFT WALK
Saturday, May 28, 2022
10 am - 5 pm
Celebrating Local Handmade Crafts. Shops will feature hand made items. Local artists will be demonstrating their crafts. There will be live entertainment and restaurants will be serving delicious eat-in or take-out food.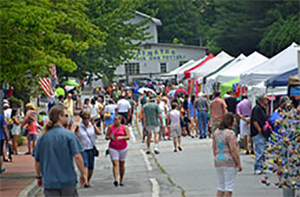 FRONT STREET ARTS & CRAFTS SHOW
Third Saturday in July
July 16, 2022
10 am - 4 pm

Just as summer hits its stride, the compact town of Dillsboro will glow with home spun talent, for Front Street will be filled with fine arts and crafts from local artisans. Strewn with vibrant colors, inviting festival aromas, and the warm sounds of guitars, banjos, and bass, Front Street Arts and Crafts Show will once again swing wide its welcome! As you stroll through the town, you can also slip into the shops where you will enjoy the many different items especially chosen with you, the visitor, in mind. At lunch time there are many restaurants from which to choose for dine-in and take-out. Come and join others in sharing the ambiance of a small town festival!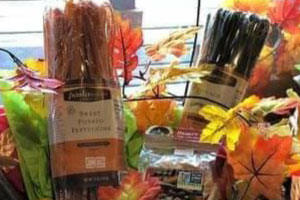 FALL FLING ART AND CRAFT WALK
Saturday, September 3, 2022
10 am - 5 pm

As we transition from Summer to Fall, the unique shops of Dillsboro highlight locally hand made arts and crafts at our new Fall Fling Art and Craft Walk. Shops will feature their hand made items and local artists will display their work and demonstrate the crafting process. Restaurants and brewery will be open serving delicious food and craft beer. Enjoy entertainment by Twelfth Fret and Anna Victoria.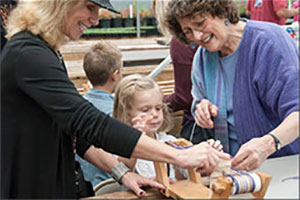 YOUTH ARTS FESTIVAL
Jackson County Green Energy Park
Third Saturday in September
9 am - 3 pm
Free art activities for the whole family, such as sidewalk chalk, mural painting, weaving, tile mosaics, chalk pastel drawing, take-home art projects, and more. Professional artists will be demonstrating their crafts. Entertainment and food. No pets please. Parking is limited; carpooling recommended. Bring your imagination and creativity and have FUN! Come watch demonstrations of glassblowing, blacksmithing, pottery, printing, gem cutting, torchworking and raku kiln firing. We'll have live entertainment, good food and fun! And the Dancing Trash Dragon will wind its way through the festival. More info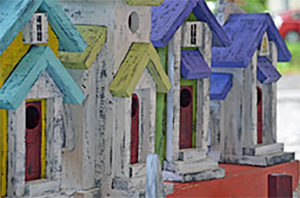 COLORFEST
First Saturday in October
October 1, 2022
10 am - 4 pm

Colors will certainly abound with the Annual ColorFest, as Dillsboro presents regional fine arts & crafts. Within Dillsboro's mountain landscape, over 50 juried artisans will line Front Street. The artists will be located only a short walk from the entertainment stage. With this festival, we wish to foster an appreciation for all arts and crafts. Add the autumn colors and exceptional food, and you'll have a great day in Dillsboro. Meet and talk with local artists, all the while surrounded by the spectacular beauty of the mountains. Sample festival foods, and enjoy indoor and outdoor dining and a brewery. We invite everyone to come visit us!