Please note: We are currently closed for cleaning and inventory. We will reopen for weekends only on Friday, January 28.

2021 QUILT RAFFLE
Tudor Window
The 2021 winner is Patti Grittith, manager of the Artsy Olive here in Dillsboro. This beautiful machine-quilted, 78" by 78" quilt was created by Larry Walther. Stay tuned for the announcement of our 2022 quilt.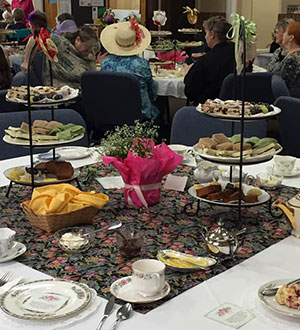 DOGWOOD CRAFTERS
AUTHENTIC ENGLISH TEA
2022 date to be announced
1 pm
First United Methodist Church of Sylva

Limited seating, by reservation only. Call the shop at 828-586-2248 to reserve; payment in advance with cash or check. $20 per person. All proceeds go to our scholarship fund. The church is located at 77 Jackson Street in Sylva.