2021 QUILT RAFFLE
Tudor Window
This beautiful machine-quilted, 78" by 78"quilt was created by Larry Walther. Come see it in person at the shop and buy a ticket to win.
$1 per ticket; $5 for six tickets and you also get a free handmade wash cloth. The drawing will be December 13. Your presence is not required to win. All proceeds are used to promote interest in local arts and crafts.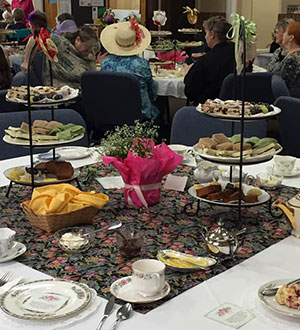 DOGWOOD CRAFTERS
AUTHENTIC ENGLISH TEA
Saturday, November 13, 2021
1 pm
First United Methodist Church of Sylva

Limited seating, by reservation only. Call the shop at 828-586-2248 to reserve; payment in advance with cash or check. $20 per person. All proceeds go to our scholarship fund. The church is located at 77 Jackson Street in Sylva.