THIS YEAR'S QUILT RAFFLE
Cabin In The Woods
Tickets are on sale now – $1 each or 6 for $5.
This queen-size quilt is on display in the shop until the drawing on in December. So come by, check it out and buy some tickets! Proceeds go toward special advertising projects.
HALLOWEEN TRICK OR TREAT
Tuesday, October 31, 2017
5 - 7 pm
Dress up and enjoy a safe Trick or Treat around downtown. Merchants will be open and offering delicious treats for the children.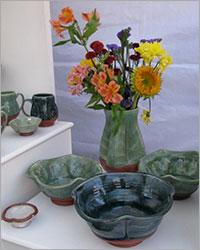 WESTERN NORTH CAROLINA POTTERY FESTIVAL
First Saturday in November
10:00 am - 4:00 pm
November 4, 2017
Celebrating the pottery of Western North Carolina. This annual festival takes place along Front Street. It is a juried event that features the work of more than 40 master potters with many demonstrations in a variety of techniques. Admission is $5 per person and includes a ticket for a day-long raffle. Kids under 12 admitted free!
Come on Friday for the WNC Clay Olympics where 20 contestants compete in three categories: (1) Largest cylinder out of five pounds clay; (2) Widest bowl out of five pounds clay; and (3) Blind-folded two-pound, two-minute throwing contest. Friday also features the lighting of the wood-fired kiln. The kiln is opened Saturday at 2 pm. More info. (photo by Amy Ammons Garza)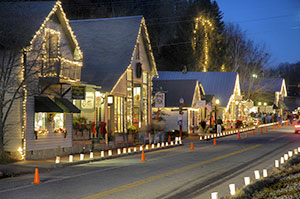 DILLSBORO LUMINARIES
First Two Fridays & Saturdays in December
December 1 & 2, 8 & 9, 2017
5:00 - 9:00 pm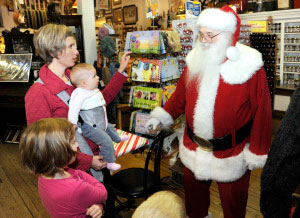 Adapted from an old Scandinavian custom of lighting the way for the Christ child, more than 2,500 candles in small white bags line the streets and every storefront is aglow with Christmas lights and decorations. Take a buggy ride, go caroling, visit with Santa, visit the shops, enjoy refreshments. Special entertainment on some nights.
Dogwood Crafters opens its doors and shares homemade cookies from our cookbooks and hot, spiced apple cider. Stop by for some treats and to see all of our one-of-a-kind holiday gift ideas.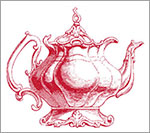 AN AUTHENTIC ENGLISH TEA
Saturday before Easter
March 31, 2018 -
1:00 pm

For a special Easter treat, enjoy an English Tea at the Historic Jarrett House. Serving finger sandwiches, sweets, fruit and tea! Hats encouraged. $15 per person, by reservation only. Call 828-586-2248 to reserve; payment in advance with cash or check by April 10. This event is a fund-raiser for Dogwood Crafters and donations are tax deductible.
DILLSBORO'S ANNUAL EASTER HAT PARADE
Saturday Before Easter
March 31, 2018
2:00 pm

View Our State Magazine's video of a recent Easter Hat Parade here. Video by Jerry Wolford. (Some of his photos are also in the slide-show to the left.) Check us out on UNC TV, NC Weekend Show.
Make a hat and come join the parade! Last-minute entrants very welcome. Registration begins at 11:00 am then join us at 2:00 pm on Front Street , where antiques cars from the Old Timers Model A Club will lead the Parade of people and pets wearing unique hats. Come meet the Easter Bunny. Get your face painted!
Awards are announced after the Parade. Ribbons are given for the Prettiest, Funniest, Largest, Smallest, Most Unusual, Most Easter-like, Best Smelling, Cutest, Most Outrageous, Best In Show and "Poofiest" hats among other unusual categories. There is even a ribbon awarded to the Best Animal in Show!
FRONT STREET ARTS & CRAFTS SHOW
Third Saturday in June
June 16, 2018
10 am - 4 pm
Just as June hits its stride, the compact town of Dillsboro will glow with home spun talent, for Front Street will be filled with fine arts and crafts from local artisans. Strewn with vibrant colors, inviting festival aromas, and the warm sounds of guitars, banjos, and bass, Front Street Arts and Crafts Show will once again swing wide its welcome! As you stroll through the town, you can also slip into the shops where you will enjoy the many different items especially chosen with you, the visitor, in mind. At lunch time there are many restaurants from which to choose to sit and relax. Come and join others in sharing the ambiance of a small town festival!
SUMMER ARTS & CRAFTS MARKET
Third Saturday in August
August 18, 2018
10 am - 4 pm
On this day festivities own the streets in Dillsboro. On Front Street over 50 local vendors will be displaying and demonstrating their arts and crafts. The market offers fused glass and copper, rustic and refinished furniture, needlecraft, jewelry of all kinds, pastel, watercolors and oil painting, basket and chair weaving, wood working, stone carving, photography, gourds, authentic Cherokee art, festival foods and much more. Summer Arts and Crafts Market has expanded its offerings to include children's activities, so come and bring the children for arts and crafts presented on Church Street especially for them. Be sure to visit the local shops and restaurants.
COLORFEST
October 6, 2018
10 am - 4 pm

Colors will certainly abound with the 9th Annual ColorFest, as Dillsboro presents regional fine arts & crafts. Within Dillsboro's mountain landscape, over 50 juried artisans will line Front Street. The artists will be located only a short walk from the entertainment stage. Most musicians have a need to perform/compose through their strong love of music and dance, and this certainly shows with the fine array of local performers lined up for day long entertainment. With this festival, we wish to foster an appreciation for all arts and crafts. Add the autumn colors and exceptional food, and you'll have a great day in Dillsboro. We invite everyone to come visit us!