THIS YEAR'S QUILT RAFFLE
Cabin In The Woods
Tickets are on sale now – $1 each or 6 for $5.
This queen-size quilt is on display in the shop until the drawing on in December. So come by, check it out and buy some tickets! Proceeds go toward special advertising projects.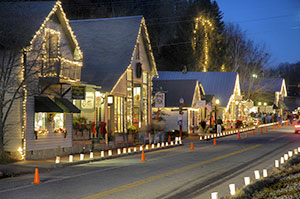 DILLSBORO LUMINARIES
First Two Fridays & Saturdays in December
December 1 & 2, 8 & 9, 2017
5:00 - 9:00 pm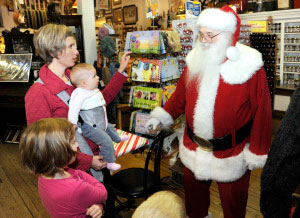 Adapted from an old Scandinavian custom of lighting the way for the Christ child, more than 2,500 candles in small white bags line the streets and every storefront is aglow with Christmas lights and decorations. Take a buggy ride, go caroling, visit with Santa, visit the shops, enjoy refreshments. Special entertainment on some nights.
Dogwood Crafters opens its doors and shares homemade cookies from our cookbooks and hot, spiced apple cider. Stop by for some treats and to see all of our one-of-a-kind holiday gift ideas.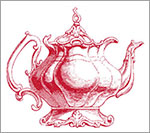 AN AUTHENTIC ENGLISH TEA
Saturday before Easter
March 31, 2018
1:00 pm

For a special Easter treat, enjoy an English Tea at the Historic Jarrett House. Serving finger sandwiches, sweets, fruit and tea! Hats encouraged. $15 per person, by reservation only. Call 828-586-2248 to reserve; payment in advance with cash or check by April 10. This event is a fund-raiser for Dogwood Crafters and donations are tax deductible.
DILLSBORO'S ANNUAL EASTER HAT PARADE
Saturday Before Easter
March 31, 2018
2:00 pm

View Our State Magazine's video of a recent Easter Hat Parade here. Video by Jerry Wolford. (Some of his photos are also in the slide-show to the left.) Check us out on UNC TV, NC Weekend Show.
Make a hat and come join the parade! Last-minute entrants very welcome. Registration begins at 11:00 am then join us at 2:00 pm on Front Street , where antiques cars from the Old Timers Model A Club will lead the Parade of people and pets wearing unique hats. Come meet the Easter Bunny. Get your face painted!
Awards are announced after the Parade. Ribbons are given for the Prettiest, Funniest, Largest, Smallest, Most Unusual, Most Easter-like, Best Smelling, Cutest, Most Outrageous, Best In Show and "Poofiest" hats among other unusual categories. There is even a ribbon awarded to the Best Animal in Show!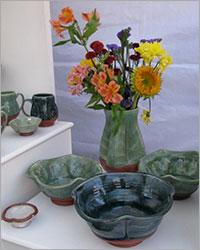 WESTERN NORTH CAROLINA POTTERY FESTIVAL
First Saturday in November
November 3, 2018
10:00 am - 4:00 pm

Celebrating the pottery of Western North Carolina. This annual festival takes place along Front Street. It is a juried event that features the work of more than 40 master potters with many demonstrations in a variety of techniques. Admission is $5 per person and includes a ticket for a day-long raffle. Kids under 12 admitted free!
Come on Friday for the WNC Clay Olympics where 20 contestants compete in three categories: (1) Largest cylinder out of five pounds clay; (2) Widest bowl out of five pounds clay; and (3) Blind-folded two-pound, two-minute throwing contest. Friday also features the lighting of the wood-fired kiln. The kiln is opened Saturday at 2 pm. More info. (photo by Amy Ammons Garza)